BSBS-2
Deluxe Pneumatic Biker Seat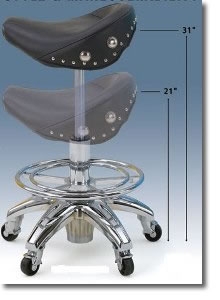 This seat is as cool as it gets. If you want to work on your bike, your car, your tractor, your computer, play the drums, or anything in total biker style... this seat is for you. It swivels 360 degrees, has an adjustable height range from 17" to 23" which makes it similar to the range of an office chair. It has 5 heavy duty caster wheels for easy maneuverability, a chrome plated base and has a super comfortable biker saddle. Understand that this is not some plastic piece of garbage. This is a 32 lb. beast so you know it's serious.

This seat will save your back while you are working and will tell your friends that you've got STYLE. What a perfect combination. Be the first on your block to own this awesome seat.

If you have someone on your gift list who has got everything, and is impossible to buy for... they don't have, and NEED, this seat!

We displayed this seat at a rally in Danbury CT, where there were thousands of motorcycle enthusiasts, and it was, by far and away, the show stopper. Everyone who walked by oooh'd and ahhh'd over it. We even had people seeking us out who said, "my friend just got this and told me I had to come see it!".

We sell them like hot cakes, and it's no surprise, because it's totally unique and extremely cool. Get yours now!!

The Limited Time Internet Special Price on this awesome seat is only $189.97 plus shipping. This price is for on-line orders only. The regular advertised price is $229.97. That's a savings of $40!! Take advantage and order yours right NOW because this promotion ends soon!!

Very sorry but we are out of stock on this item.