Universal Adapter
It's so cool and effective there's a patent pending on it
Do you have a tough to lift bike? Have you already purchased a typical motorcycle lift but it doesn't work on your bike? Are you looking for a solution? Well you've found it right here!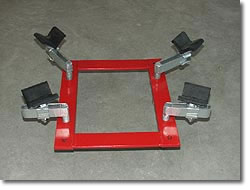 This is the adapter that comes with the MAL-2C Motorcycle Jack. It's so unique and useful that it has a patent pending. It's fully adjustable so for most every bike, you'll get it in the air. If your bike or ATV has anything hanging below the frame that would get in the way of the lifting surfaces of the typical jack this adapter will get around it. Exhaust, oil pan, swing arm shocks and fairings are common obstacles. Or a frame that's not level is also a problem for a typical lift. This adapter solves all those problems and more.
The "V" shaped bunks are designed to reach up and grab around the obstacle and lift from the frame without putting pressure where it shouldn't be. And they can be set to provide uneven lift if needed.
It is infinitely adjustable. The bunks rotate 360 degrees on their supports. They slide in and out on the rails and the rails are attached to threaded rods that screw up and down. This allows you to put the bunks exactly where you need them. And if necessary you can set one or more higher or lower than the other(s).
The adapter is made to fit lifting bars 2-1/2' wide, that are 13" apart,outside to outside, and 11" long. The bunks will fit bike frames that are up to a maximum of 13" apart. Please note that the adapter will add 3" to the minimum collapsed height of your jack.
The discounted price on this adapter is only $89.97 plus UPS Ground Shipping. This price is for on-line orders only.
To order your adapter, please call our office at 203-385-8582